Adult dummy UTAC TNO 10 according to R16 regulations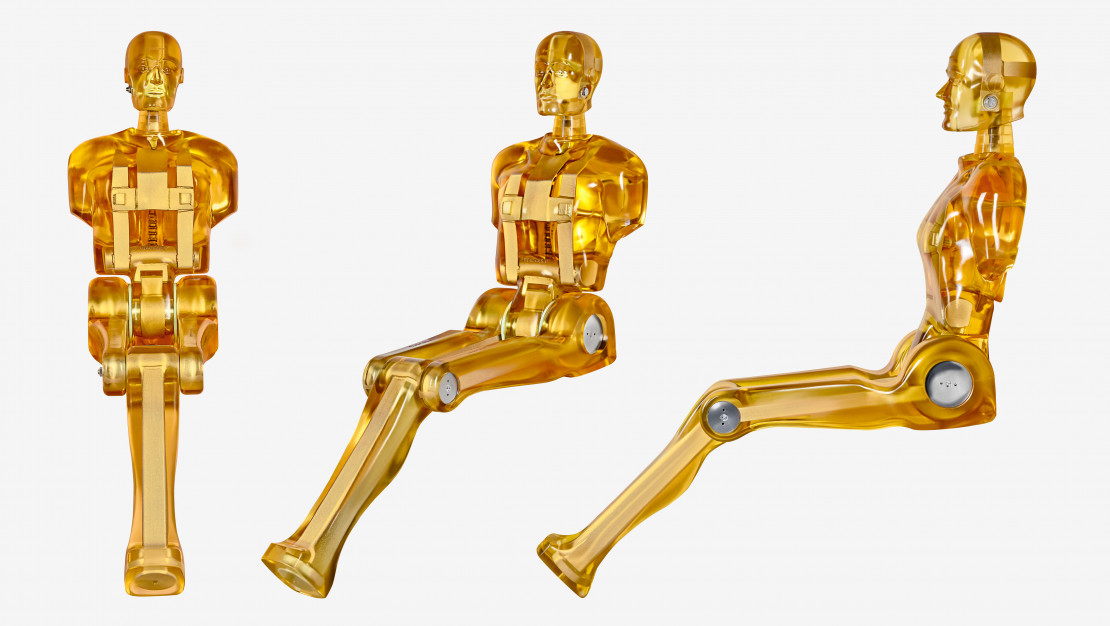 The ECE R16 TNO 10 dummy
For a loading device to test vehicle seat belts in a simulated collision.
The dummy is specified as a testing device for ECE Regulation No. 16, "Uniform provisions concerning the approval of safety belts and restraint systems for adults of power-driven vehicles" and for EEC Directive 82/319.
Technical specifications

NOTE: Customers with TNO-10s may replace parts of their existing dummies with R16 components.

The dummy represents an adult male of the 50th percentile as regards overall size and distribution of the weight. For reasons of simplicity, the dummy does not have a forearm and only a single leg and is made of hard semi-translucent urethane whose durability is proven.

The dummy is mainly composed of 6 parts: the head, neck, torso, two thighs and one lower leg. The parts are connected to each other by joints that allow movement in the mid-sagittal plane.

E508 material (polyurethane 58 shore A)

According to what our customers tell us, the typical lifetime is 500 tests or 5 years.

In the following conditions:

Storage away from direct sunlight and/or sources of artificial light.
Storage temperature of between 5 ° C and 40 ° C
Temperature during the tests and stabilisation of between 20°C and 30°C
Humidity during the storage or the tests of between 20 and 80%.
No contact with chemical products.
Preparation of the dummy in accordance with Rule R16 (adjustment of joints, use of the cushion and overalls)
Stabilisation for at least 12 hours between 2 tests.

Notes:

The lifetime may be significantly reduced if the belt breaks during the test.
A permanent deformation of the chest may occur if the dummy is mainly tested with belts on the same side, but this is not considered to be a defect.
Over time, a slight colour change is possible, but this is not considered to be a defect.